Hello, fellow book junkies! My name is Eve, and I am a bookaholic. Thanks to eloquent, well-read, super friendly Orang-utan Librarian for tapping me to do this book tag and thus giving me license to explore my inner bookaholic.
WHAT DO YOU LIKE ABOUT NEW BOOKS?
The smell of them! Whenever I crack open a brand new book I'm transported to all the  happy moments when I've started a new story. Something else I like about owning my own book rather than borrowing it from the library is that I don't have to worry as much about spills or pages getting bent from me falling asleep on them. And I love goodies that accompany pre-ordered books. Oh, and getting authors to sign my books live and in person.
HOW OFTEN DO YOU BUY NEW BOOKS?
I used to buy a lot of books. A lot, a lot. Between my book-loving husband and me, we've filled our bookshelves with books stacked two, three, and sometimes four rows deep. There is simply no more room for new books.
The way I come by books nowadays looks like this:
40% borrowed from library
20% Kindle e-books
20% Netgalley ARCs
15% new book purchases
5% used book purchases
Each time I don't buy a book I feel guilty. Authors work so hard at crafting the stories I love to read, so I have made a vow to myself that when I am a successful published author, I will buy every book I read. That is a promise.
BOOKSTORE OR ONLINE SHOPPING — WHICH DO YOU PREFER?
If these two choices were at either side of a teeter-totter, the teeter-totter would be completely level. Bookstore browsing is so, so, so fun, but then again online purchases are so darn easy. Both are great!
DO YOU HAVE A FAVORITE BOOKSHOP?
Yes, a used bookstore called Bookman, just a five-minute drive from my house.
DO YOU PRE-ORDER BOOKS?
When I absolutely, positively can't wait to read a book and there's no other way to get my hands on it, I WILL pre-order.
DO YOU HAVE A MONTHLY BOOK-BUYING LIMIT?
I don't have a spending limit, just an awareness of limited funds.
BOOK-BUYING BANS, ARE THEY SOMETHING FOR YOU?
I don't ban myself from buying books because, well, here's a secret. I am a bit of a rebel; if I disallowed myself from buying books, I'd probably end up buying a bunch just to spite myself.
HOW BIG IS YOUR WISH LIST.
There are around 400 books on my wish list, and that's just I like it. It's I'll never be without ideas for good books to read. 🙂
WHICH THREE BOOKS FROM YOUR WISH LIST DO YOU WISH YOU OWNED RIGHT NOW?
A Conjuring of Light (Shades of Magic #3) by V.E. Schwab – It's not due out until 2017, but I want it in my hot little hands right now. I am dying to know how the series ends!!
Crooked Kingdom by Leigh Bardugo – I adored the characters and worldbuilding from book one, Six of Crows, and people are raving about book two so, yeah, that one.
The Raven Cycle by Maggie Stiefvater. Okay, I realize that's four books, but after reading The Raven Boys and The Dream Thieves, I am so enamored with the series that I must own all the books now! 🙂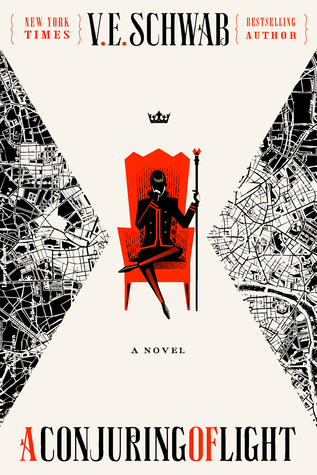 –Eve Messenger
I Tag:
Caitlin Rhodes @ Rhodes of Reading
Diana Prince Reviews
Nicole @ Sorry I'm Booked
Larkin @ Wonderfilled Reads
Amanda @ Cover2CoverMom
Carolyn @ A Hundred Thousand Stories