I didn't see The Gilmore Girls when it first aired, but I had a blast binge-watching Lorelei and Rory on Netflix and now have kindred book-loving spirit Beth @ Betwixt the Pages to thank for this fun Gilmore Girls Book Tag. If you'd like to do it too, please consider yourself tagged!
1. I JUST GOT HIT BY A DEER –
character having the worst day ever
"Day" from the book Legend has all the soldiers of a dystopian society against him. And they are not kind.
2. STARS HOLLOW –
wildly eccentric cast
The Night Circus  features such a unique assortment of characters.
3. COFFEE –
a book you're addicted to/a character with an addiction
I think Miles (AKA "Pudge") was pretty addicted to Alaska and her wild ways.
4. SOMEONE DEVIL EGGED MY CAR?! –
great act of revenge
Victor from Vicious  owns this category.
5. MR. MEDINA –
an illicit affair
Nathanial Hawthorne penned the ultimate illicit affair story in The Scarlet Letter. I was recently impressed by the Manga Classics version of The Scarlet Letter, which did a great job capturing key plot details and most memorable lines–all in manga style.
6. KIM'S ANTIQUES –
a world you'd be afraid to enter
The strange world and undercurrent of evil in The Knife of Never Letting Go was genuinely unsettling.
7. HARVARD VS. YALE –
character who needs to make a life-changing decision
Alexandra in Consider by Kristy Acevedo had to decide whether or not to take the ultimate leap of faith.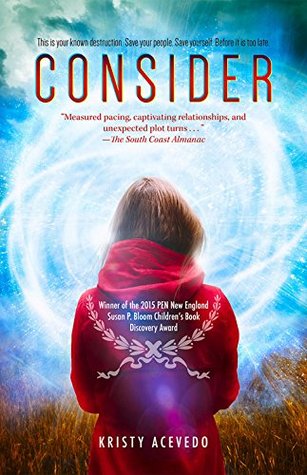 8. LUKE'S DINER –
a comfort read
Captain Marvel Further, Faster (vol. 1-6) by DeConnick & Lopez. Talk about a comfort read. This graphic novel was pure Friday night joy.
9. AM I CRYING OR LAUGHING? –
a book that messed with your emotions
The First Time She Drowned by Kerry Kletter devastated me. In fact, I'm pretty sure I read #8 to decompress from this beautifully written but heartbreaking book.
10. EMILY –
the HBIC (Head Bitch in Charge)
Predatory, coldly beautiful Dr. Cable from Uglies.
11. LORELAI AND RORY –
favorite family dynamic
I choose the Shadowhunters family from Cassandra Clare's Infernal Devices. They may not be related to one another, but they live together and have each other's backs.
12. I PUSHED HIM IN THE LAKE! –
a book you'd throw in a lake
While reading Phillip K. Dick's The Man in the High Castle there were times I wanted to throw it into a lake because the derogatory Asian references were so offensive.
13. 1000 YELLOW DAISIES –
favorite romance
In Magonia, Jason literally travels to the far corners of the world to find Aza.
14. JESS –
an unpopular opinion
Cinder. Sorry!!
15. FIRST SNOW –
snowy or holiday read
Pretty much any book by Jane Austen feels like a snowy or holiday read. Something about reading stories set in Regency era England makes me want to curl up by a crackling fire.
16. HEP ALIEN –
book centered around music
In addition to being clever and funny, The Haters had so many musical references which, as a musician and music teacher, I enjoyed immensely–Jesse Andrews authentically captures what it's like to jam with bandmates. But be warned: this YA book is undeniably an R-rated read.
17. HE'D BETTER HAVE A MOTORCYCLE! –
your book crush
Day from Legend.
18. IT'S REPETITIVE AND REDUNDANT –
a book that could have been shorter
A Tree Grows in Brooklyn. (Should I also put this in category #14??)
19. KIRK –
the weirdest book you've ever read
Hahaha, Kirk is weird. Okay, so I'm gonna have to go with Magonia again on this one.
20. IT'S A LIFESTYLE. IT'S A RELIGION –
that one book that means more to you than any other
Impossible to answer.
I Tag:
Michelle, Books & Movies Addict
Carolyn @ A Hundred Thousand Stories
Jess @ Blogging Everything Beautiful
Stefanie @ YourDaughter'sBookshelf
The Orang-utan Librarian
Franciska @ Life is Sweet in Books
Lila @ The Bookkeeper's Secrets
Astra @ A Stranger's Guide to Novels