Hello, fellow book junkies. 'Tis the season to be spooky, so I'm super thankful to thegrishalieutenant for this awesome Halloween Book Tag! 
CARVING PUMPKINS-What book would you carve up and light on fire?
I'm mad at The Bone Witch for being so darn aimless, especially after I'd looked so forward to reading it.
TRICK OR TREAT – What character is a trick? What character is a treat?
For this category I chose two different blond guys. . .
Trick
Eli Cardale from V.E. Schwab's Vicious. Every character in this book is as morally ambiguous as can be, but Eli Cardale is one of the biggest dicks tricks.
Treat
Matthias Helvar from Leigh Bardugo's Six of Crows. This hunky blond from the icy north gives me the shivers in a good way.Definitely a treat.
CANDY CORN – What's a book that's always sweet?
Most books I read these days have somewhat of a dark edge, so I'll have to reach way back into my reading history (and even farther back historically since this book was published in 1902!) for a riches to rags story I'll never not be touched by: A Little Princess by Frances Hodgson Burnett.

GHOST – What character would you love to visit you as a ghost?
It might be interesting to be visited by the ghost of Karou from Laini Taylor's Daughter of Smoke & Bone. I think she'd show me interesting things.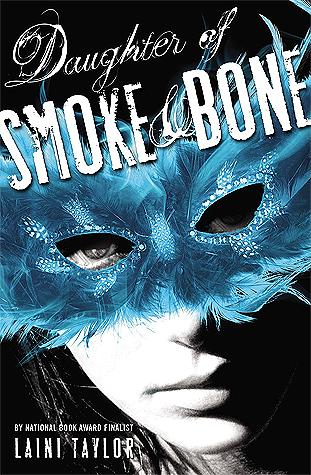 DRESSING UP IN COSTUME – What character would you want to be for a day?
I'd want to be Nimona from the graphic novel by Noelle Stevenson, because Nimona gives a total of zero f–ks, and I would like to know what that feels like.

WIZARDS AND WITCHES – What is your favorite Harry Potter moment?
When Harry Potter first takes the train to Hogwarts on track nine and three quarters and meets Ron and Hermione. It's just so darn magical.

BLOOD AND GORE- What book was so creepy you had to take a break from it?
It's a tie between these two books because the idea of pure, cold evil terrifies me like nothing else.
Happy Halloween!
XOXO, Eve Messenger
I tag:
Jesalin @ –Blogging Everything Beautiful
Amy @ Every Book You Need to Read and More
Britt @ Geronimo Reads
Orang-utan Librarian
Emma the Book Lover
Caitlyn @ Rhodes of Reading
Amanda @ Cover2CoverMom
Alyssa @ Alyssa is Reading
Cinderzena @ Cinderzena Blogs
Jessica @ The Mud and Stars Book Blog