I am a writer. I daydream. Sometimes I daydream about what it would be like to attend my own book signing or to speak at a conference. (My introvert palms are sweating about that one already.) The obvious question, "What would I wear?" got me browsing through photos of my favorite female Y.A. authors, whose outfits apparently run the gamut  from T-shirts and jeans to designer dresses. No help there. Then I noticed something interesting. Big-name male YA authors sport a kind of "author's uniform." If you're a male (or female) author searching for a good public look, here are three options you might want to consider.
The Rock Star
I challenge anyone to find a photo of Neil Gaiman not dressed in black. (Costumes don't count.) Gaiman's "author uniform" (which he totally rocks) consists of a black shirt, black blazer, and black pants. Occasionally, Gaiman mixes things up with a black sweater, black trench coat, or black bomber jacket. Are you detecting a theme here? Gaiman prefers clothing that's dark like his stories, one of my favorites being The Graveyard Book.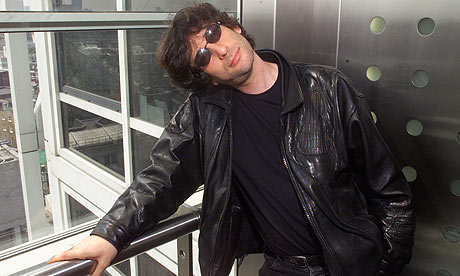 The Boy Next Door
Imaginative and prolific author Patrick Ness's go-to author uniform is a polo shirt with zip-up hoodie and jeans. Hey, whatever works, as long as he keeps writing books like The Knife of Never Letting Go.
It is worth noting that for gala events, Ness cleans up very nicely. Guys are so lucky to be able to slip on a gorgeous tuxedo and call it a day.
 
The Friendly Professor
Yep, that would be John Green, who meets with the public wearing a tieless dress shirt, blazer and jeans.
Which author uniform is your favorite? If you were to attend an event as an author, what would you wear?
–Eve Messenger