Hello, fellow book junkies! Well, if I had to sum up this month's reading experience in one word, it would be "eclectic." Genres spanned from contemporary LGBTQIA to graphic novel to classic Indian mythology to adult fantasy-horror. Most of the books were quite good, and one has entered the golden category of personal favorites.
I'm going to start this review with a little secret. When I was a child, the vast majority of books I read were written by men. That wasn't a conscious decision, of course, just based on what was available. When I started writing stories of my own, I caught myself constantly writing about male progatonists. It dawned on me that that was kind of strange since I am female, so I decided to give my literary brain a reboot, and I switched reading books by females about females, almost exclusively. For the most part, I think it worked. Sometimes, as I'm writing, I still fall into gender stereotype traps, in which case deliberately subvert them, i.e., making the wise mentor female.
Now that I'm branching back out into reading more books by male authors, one of the ones I chose was Stargirl by Jerry Spinelli–because I adored the title. While this book does explore important themes of having the confidence to be yourself, it is essentially about a boy who meets his manic pixie dream girl. Sigh. 3 stars
Hey, literary world, just because this story features a woman dealing with family issues, can we please not call it Chick Lit?!! Do we call adult contemporary books by males Dick Lit?!! Okay, so back to the book. . . Amnesia stories always intrigue me, especially when they're sort of a do-over story like this one. As the story opens, main character Alice is regaining consciousness on the floor of a gym, and she is confused as to why people keep telling her it's twenty years in the future. Humorous at times, What Alice Forgets is a powerful exploration of relationships and remembering to remember what we appreciate about life and the people in it. 4.5 stars
A graphic novel about girls in the 1980s who deliver newspapers? Sign me up! The setting, concept, and artwork arefun. The story had its moments and some surprises but wasn't super strong. Still, I think I'd like to keep reading about these tough girls from different walks of life.  3.5 stars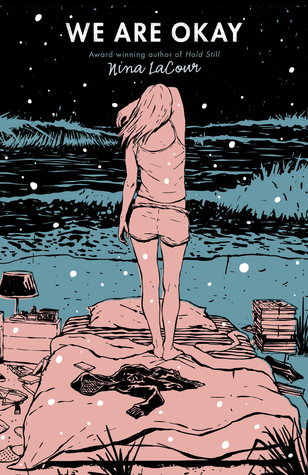 We are Okay by Nina Lacour – YA Contempary LGBTQIA
What a good writer Nina Lacour is. Her stories are kind of on the quiet side, and I'm always glad to have read them. She captures feelings of loneliness like no other writer I've seen, and her stories are full of feeling and human connection. The LGBTQIA aspect isn't a huge part of this book, but it makes an impact. 4 stars
Ramayana by  Vālmīki, William Buck (translator) –  Classic Indian Mythology
This epic Indian story about Prince Rama, gods, and demons was written by Sanskrit poet Valmiki in 300 A.D. It's incredible how, within this rich mythological world, the human emotions and motivations are still so relatable. 4.25 stars
The Goose Girl (The Books of Bayern #1) by Shannon Hale – YA Fantasy
What a wonderful thing it is to dive into a new book and discover it's going to be one of your all-time favorites. That's what happened to me with The Goose Girl. Everything about it is great–the writing, the magical atmosphere, the characters, and, oh, the plot. The plot is really good. All the feelings I had about as a kid about princesses and fairy tales I found again in this book. 5 enthusiastic stars
After her mother's suicide, half-Taiwanese, half white Leigh Chen Sanders travels to Taiwan to connect with her Taiwanese roots at last. The scenes set in Taiwan are full of atmosphere and intrigue, magic and emotion. A woman that Leigh meets there, Feng, is a fascinating character that I think will stay with me for a long time.
The cover is a work of art. The title is gorgeous.  The Astonishing Color of After has a nice writing style, too, as magic realism stories so often do. The plot, however, meanders at times. It takes a while to get to the point, and I found myself skimming pages. Overall, this is a powerful story of a girl looking to connect with dead mother mother through her rich Taiwanese heritage. The romantic subplot takes away from what is a much bigger story of self-discovery. 3.5 stars
The Library at Mount Char by Scott Hawkins 388pp  – Adult Fantasy-Horror
Anyone in the mood for a dark, modern fantasy should look no farther than The Library at Mount Char. It is unlike any book I've ever read, a cross between Stephen King's The Stand and Douglas Adams' Hitchhiker's Guide. The world-building is smart and imaginative, and the characters are fascinating–especially Carolyn and Erwin. A terrific read. The only time it slips is during the last act when the story kind of diverts and turns into an over-explanation of things. If you've read it, I'd be interested to hear what you think about that. 4.25
— Eve Messenger